The Definitive Guide To Optimizing For Voice Search In 2020
Siri started off a voice search trend all the way back in 2011, which means if you have not updated your site for voice SEO, then you could be missing out on organic traffic related to queries through voice assistants.
Originally the technology was not as streamlined or effective, but in today's world, phones and smart home speakers are used to search for all kinds of information. (There were over 3 billion voice assistants in use as of 2019.)
As a result of this shift, older keyword strategies and short phrases simply cannot compare to the effect of long-tail keywords and the question-and-answer content needed for today's SEO strategy. People are using voice search more than ever before, and thanks to AI technology, voice recognition and search accuracy are improving daily.

Why Voice Search Optimization Matters Now
While voice search isn't as popular as jumping on Google or Bing (yet), marketers have already begun to prioritize voice search in their SEO strategies. And if you're a smaller local business, voice search optimization offers more benefits for local SEO.
Users conduct all kinds of voice searches, but some of the most popular include:
Information about deals, sales and promotions
Personalized tips and information to make life more simple
Finding a business location, hours, directions and other information
Customer service and support numbers
Most businesses aren't yet optimized for voice search, and instead, have marketing teams working to update older content with new long-tail keywords (a strategy that isn't going to set you apart from the crowd or even make any gains in ranking).
So instead, let's focus on some big changes that can optimize content for voice search in 2020 and beyond.
Five Ways To Improve Your Voice SEO
1. Research Keywords for Voice Search Separately
Users type in queries differently than they are spoken. This is probably the most important rule to remember when considering voice SEO. On a keyboard a person may search, "pizza restaurant 32841," but on their phones, users may ask "what's the best pizza place near me?" This question and answer format have become central to voice SEO strategies.
To research keywords and questions related to your products, you can use tools like Answer the Public. All you need to do is type in a root keyword and it will generate a list of commonly asked questions, prepositional phrases and more.
Google Search also provides you with its "People Also Ask" tool (which shows you additional questions related to your search). When you type in a question related to your product, Google will then provide a list of questions related to the topic that other users ask.
2. Set Up Your Structured Markup
While optimizing for voice search is still touch and go, most marketers agree that structured markup ranks you higher for queries, especially when your content is highly relevant. This means that you need to show Google how relevant your content is by using a sitemap and structured data markup, also called schema markup.
Structured data markup is a technical way to format and code your content so that you tell Google exactly what is on the page. You can identify everything in your content to help Google bots so that they understand how relevant your content is. (It's also the best way to get at the top of a SERP with featured snippets.) Google pulls information from schema markup to generate these figures.
For example, you can optimize your schema markup for:
Individual products
Places
People
Organizations
Events
Tutorials and how-to content
Reviews
News articles
Other creative work
You can find the full list of schema markup and see more documentation on Schema.org.
Example of markup: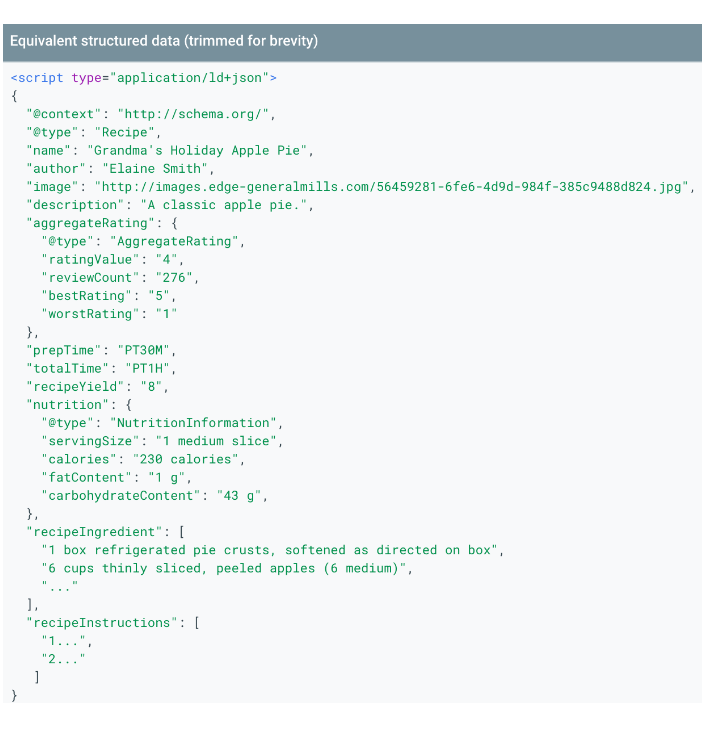 Example of a featured snippet: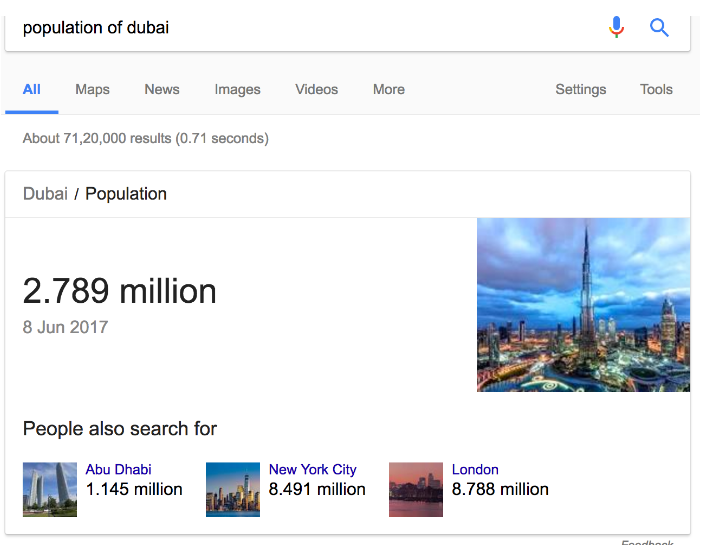 3. Create Google Actions and Alexa Skills
Voice searches are conducted on a variety of different devices, including smartphones and smart home assistants. You can build out actions for Google Home or create custom skills for Alexa to interact with your content.
With actions, you can set up a program to have conversations with the app and your customers, making it more valuable when users initiate a voice command.
However, you should only do this if your actions and skills are planned as part of a sales funnel. Actions/skills should be useful and optimized for what the user is asking for through the voice device.
Content-based actions are best used for recipes, podcasts, and news. You can see more about building actions for Google here or use Amazon's developer kit for Alexa skills.
4. Enhanced Sitemaps
When building out your site with voice search SEO in mind, you should look at sitemap templates and structure your content so that it answers important queries about your products, industry or other services that you provide. Your sitemap should also include several FAQ pages that incorporate the most important keywords for your product or business type.
After you create a sitemap, it's important that you submit the new sitemap to Google. Once submitted, Google will know what pages should be crawled. There are also several sitemap extensions for different media types that you should label, especially for video.
5. MOST IMPORTANTLY — Add Question and Answer Content
When was the last time you updated your content? Is it still relevant? If you have neglected to add anything new to your content in the past two years, then you are behind the eight-ball, unfortunately.
Consider adding the following content to your website immediately:
Frequently Asked Question Pages
Most businesses have a single FAQ page that relates to questions about shipping, return policies and other customer service questions. However, you should also include standalone FAQ pages related to big volume keywords about your products and services. These can be helpful SEO pages for featured snippets with voice search queries.

Add Popular Questions to SEO Pages
In addition to standalone FAQ pages, you should also consider adding questions to each product page or landing page on your website. These can be tailored to the content on the page and feature long-tail keywords. Each answer should be at least 150 words.

Create Video Tutorials for Popular Questions
If you use tools like SEMRush or Answer the Public to find popular keywords and questions, you may want to create video tutorials to answer questions and feature these on your prominent pages. Video has become key to SEO strategies as most users want to look at how-to videos when asking longer questions.

BONUS TIP! Claim Your Google My Business Listing
Local businesses benefit the most from optimizing for voice search. This is because customers are constantly looking for places to visit using a voice search. When people search for "pizza place near me," Google will use their location and look at Google My Business listings to answer the query. This means if your business is not claimed, you may miss out on valuable foot traffic.
Some tips for your Google My Business listing:
Make sure all contact information is accurate and updated
Provide a customer service number that is always accessible
Include more business information, such as hours and directions
Add 400 words to your listing to describe it and include your best keywords
Add photos and videos of your business, products, and customers to enhance your listing further
Still In Need Of Help Optimizing Your Site?
Unsure of where your site truly lies in terms of SEO and organic visibility? Take some time to fill out a form and get in contact with us to set up a consultation.
https://isynergy.io/wp-content/uploads/voice-search.jpg
321
845
Michaela Good
https://isynergy.io/wp-content/uploads/isynergy-infinity-logo-1.png
Michaela Good
2020-02-04 11:10:18
2020-02-05 16:07:40
The Definitive Guide To Optimizing For Voice Search In 2020