Web design is definitely not what it used to be. I mean, remember this?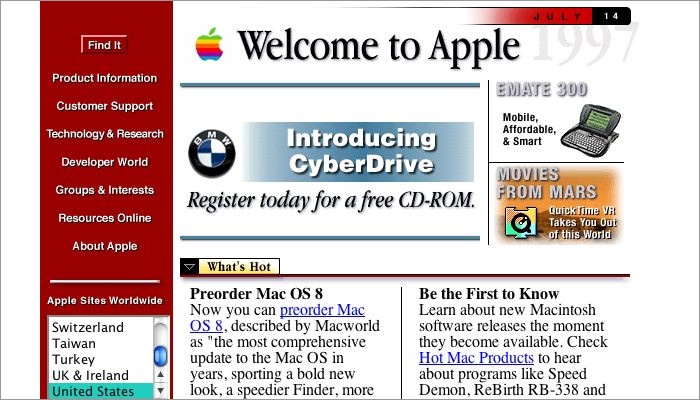 Yikes!
In today's world, you're competing with a sea of possibilities for web presence. Add to that the fact that user attention spans are shorter than ever before. The result? It's super important to grab attention within the first couple of seconds, and in order to do that, there are several elements you should always keep in mind prior to design.
Top 5 Elements of a Superior Website
KNOW YOUR TARGET

Kind of common sense, we know, but you'd be surprised at what we've come across over the years. Business owners who already have a web presence can be extremely protective of old, outdated website designs. And, if the website is a new project, you can bet your bottom dollar that most owners already "know what they want."What everyone forgets, however, is that even though the website (and its design) is ABOUT the company, it is DESIGNED FOR the consumer. The consumer is your target… always. It's their opinion that counts, so leave your personal preferences at the doorstep. Understand your customers' habits, demographics, and triggers, and if you don't already know about buyer personas, now's the time to learn!

CREATE A CALL-TO-ACTION (CTA)

Always set a goal for your brand strategy prior to your site's creation/redesign, and make that goal clear to your visitors – at all times. Your pictures and design may be on point, but if visitors aren't sure why they're on your site (or what they're getting from it), they will find one with a clearer message."Click Here" (gotcha… that, my friends, is a call-to-action)! CTAs are simple – typically an image or line of text that prompts your visitors, leads, and customers to take action. It is, quite literally, a "call" to take an "action." Are you selling products? If so, make the purchasing process accessible from anywhere on the site. Are you trying to convert site visitors into active clients? Give those visitors a reminder to contact you on each and every page (and link that reminder directly to your phone number, email, etc). CREATE A CALL TO ACTION!

KEEP IT FRESH

New content = Returning clients. Plain and simple.What this doesn't mean, however, is to stuff meaningless copy, pictures, blogs, and articles onto your website at random. Have a plan.

Consider incorporating social media integration into your web design and PR tactics. Build a following. Followers are likely repeat customers, and, repeat customers often become walking billboards for your brand – so keep them engaged! Or, take it a step further and consider content marketing strategies. Don't know what content marketing entails? Check out our blog.


BUILD YOUR BRAND

Consistency in branding builds trust and recognition among consumers. Why is Disney such a ginormous success? They are consistent. People know what to expect at all times – magic!In the UW-L Journal of Undergraduate Research VII, the article Brand Image and Walt Disney: A Qualitative Analysis of "Magical Gatherings" notes:

There is perhaps no greater priority among organizations than developing, projecting, and maintaining positive images of themselves and their products and services. A brilliant image can strengthen an organization's credibility and help persuade customers to engage in desired economic action—to buy a specific brand or product. Thus, a good brand image will popularize not only a specific product but also the company that provides it (see the full research article here).

MAKE IT ACCESSIBLE

Web design should be accessible on any device – especially on mobile. With more than 45% of internet users connecting via mobile devices, responsive design is more important than ever before and will only continue to grow in importance.Your site's accessibility is compounded by its need to provide a seamless transition across multiple platforms… a process known as omni-channel marketing. Again, let's consider the example of Disney.

Omni-channel marketing is the concept of providing a consistent experience across all channels and technologies that a customer uses to interact with a particular brand. Disney is the master of this… Think about it. Whether you're on their website (desktop or mobile), a Disney app, watching tv, or using their My Disney Experience, your expectations for their brand are always the same (and always met).

For some more examples of great omni-channel experiences, check out our blog Omni-Channel Envy.
Without a doubt, these 5 things will take a website from good to great. It's impossible to build a solid brand identity without consistency, engagement, and accessibility. How are those achieved? KNOW YOUR AUDIENCE. Always, always, always keep them top-of-mind, because once you know your clients (and their drivers), everything else will fall into place!