Google SERP Elements in 2018
Do you remember when Google's search results were just a list of blue links with plain text descriptions? Looking back, it must have been much harder to find what we were looking for. We had to actually use our brains to read through the results and pick out the one that best answered our question, then click on it to find our answer.
Now, we're basically served our answers on a silver platter.
Throughout the years, Google has added more and more bells and whistles to their search results pages (SERPs) to deliver the best possible results to you, their user. Now, you've got star ratings, outline boxes that pop up with your answer in them plain as day, scrolling lists of things across the top of the screen, products to shop, tweets, news updates, and a lot more. Google wants to be your one-stop-shop, and they keep improving their results to make that happen.
Let's take a closer look at the anatomy of a SERP.
The Local Pack
If you're performing a local search, Google will serve you a Local Pack at the top of the organic results. This is a listing of three nearby places or businesses that match your query. For instance, let's say you live in Minneapolis and you're looking for a jewelry store. You head to Google and type in "jewelry stores." Here's your Local Pack:
Each Local Pack features three listings with a "More places" button at the bottom to click to see more listings. You'll also see more dots on the map, which you can click to explore. Within each listing, there are reviews, the address and phone number of the place, how far it is from you, and whether it's currently open or closed.
For local businesses or places, getting into the top three listings in the Local Pack is an awesome way to show up at the top of the SERPs. There are a number of ways that local businesses can work on coming up in those coveted top three spots. Tactics such as getting more good reviews, using location schema on your website, building local citations and links, and building out your Google My Business listing can help you gain more local visibility.
Note that you can also filter results by rating and hours of operation. This makes it especially important to get good reviews, not only because people will make decisions about your business based on your star rating, but they can now filter out results with a star rating lower than what they'd prefer.
Shopping Ads
Instead of looking for a jewelry store, let's say you want to buy a Mother's Day gift online. Searching for "mother's day gift" will bring up Google's Shopping Ads: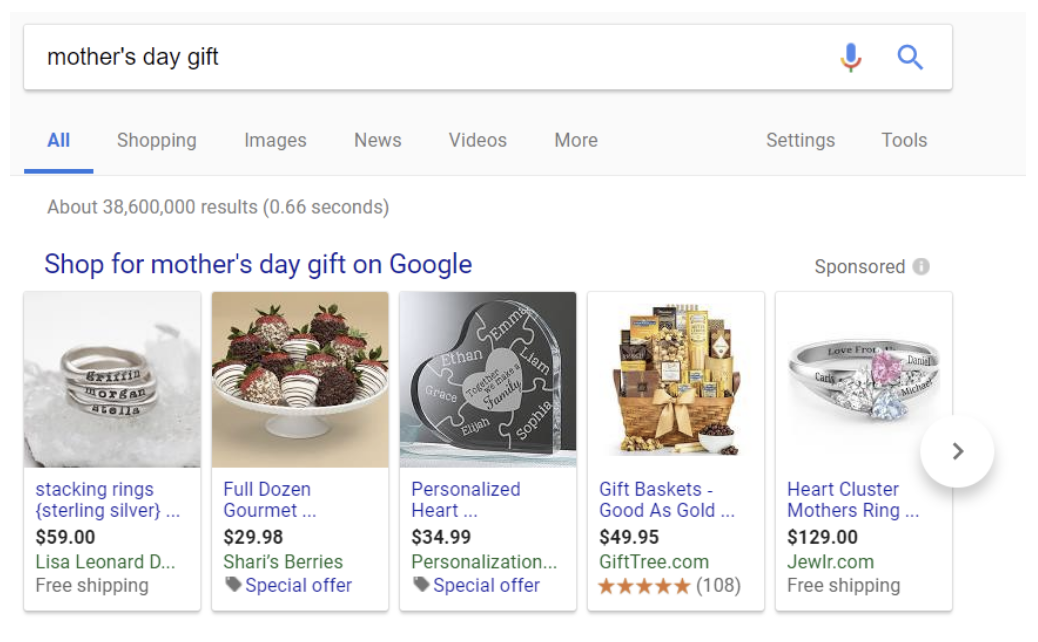 These ads are run by businesses who've connected their online stores to Google's Shopping network. You can scroll through more gifts using the arrow, or click "Shop for mother's day gift on Google" to bring up the main Shopping page. Clicking to buy a gift here will bring you to the seller's store. These sellers pay Google to show their products to consumers. If you run an ecommerce website, you could show ads here as well.
Local Services Ads
Home and property owners are a pretty big portion of Google's users, and they're often in need of local services. So, in 2017, Google rolled out Local Services ads. These ads are shown only for certain local services such as HVAC, plumbing, electric, general contractors, cleaners, and locksmiths, and to be eligible to run the ads, businesses and their staff must be background checked and approved by Google. In a nutshell, these ads allow Google to keep searchers clicking on their own ads instead of visiting, say, Angie's List. Still, whatever their intent, Google has made finding top local service professionals very easy.
Here's an example of what these ads look like when searching for electricians in Minneapolis:
That green "Google Guaranteed" checkmark sure does look promising and official, doesn't it? Plus, on mobile, each ad features a "Call now" button, so you can easily click to call any of these businesses.
You can see why local service companies would want to show up in that spot, especially since it's at the very top of the SERP. Visit Google's Local Services Ads page to learn more.
Regular CPC (Cost Per Click) Ads
Yep, you can still pay Google to display a regular old ad. However, there are a lot of ways to customize your ads now to display more information about your business, such as specials, more sitelinks, a clickable phone number, and more. These ads appear at the top and bottom of SERPs, and will come up for just about any query.
For example, here's an ad that pops up when searching "Minnesota vacations":

While these are the traditional ads that have been around for many years, Google keeps adding more options for them. They've also recently expanded the amount of text you can use, so you can better explain your offering in your ad.
The extra things you can include in your ad are called Extensions. For more about Extensions, read Google's guide.
The Knowledge Panel
Alright, now you've looked at Mother's Day gifts online and you've decided you'd rather patronize a local store to make your purchase. You hear an ad on the radio for a local store's Mother's Day promotion and you decide to check it out. Typing in the name of that store will bring up Google's Knowledge Panel:
The Knowledge Panel appears in the right side of the SERP, and provides you with a bunch of information about the business or place you've searched. You'll see pictures, a map, the address, hours and phone number, reviews, popular times, and more.
If you're a local business or place, you can control some of what's in your Knowledge Panel by updating your Google My Business page. Add images, your contact information, your website and more to make your Panel look great. In general, the more you add to your Panel and the more often you update it, the more chance you have of being ranking high in local searches on the map.
The Knowledge Graph
Yep, there are two "Knowledge" pieces to Google's search results. The Knowledge Graph is Google's most recent pride and joy, and it's something they're working on constantly updating. You're seeing the Knowledge Graph any time you perform a search and see a carousel at the top of the page or a box on the right-hand side that's not a local Knowledge Panel.
For instance, here's an example of a carousel in the results for the query "2017 movies":
Carousels will come up when searching for books and movies, actors/famous people, art, and more.
An example of a right-hand sidebar knowledge graph is what you get when you search "Christopher Columbus":
As you can see, it looks very similar in style to the Knowledge Panel, but features data instead about people and things, not local places. You can find answers to a lot of questions in Knowledge Graph cards. Try asking Google anything about history, science, animals, space – the list goes on.
Google continuously works on updating their Knowledge Graph to make SERPs into more easily scannable and navigable pages. For more information on the Knowledge Graph, check out Google's page of information on it here.
Featured Snippets
Featured Snippets are relatively new in the evolution of Google. These are snippets of information from a top-ranked website that Google thinks effectively answers your query. It pulls the information for you and puts it in a box at the top of the results, and provides a link to the page where the answer came from if you need to learn more.
Here's a great example of a Featured Snippet when performing a search for "How to Install Vinyl Flooring":
Featured Snippets come up for many queries, from how-to's to people, places and things. They'll pull in answers to questions in lists, pictures, bullet points – they're really helpful.
Featured Snippets are really important pieces of search in the present time, especially, for a couple reasons. First, for a website, getting your information pulled into that snippet can increase your click-through rate by a lot. Lowe's is probably getting a lot of people visiting that page on their website, because it's featured in that box. It can have the opposite effect, though. If a searcher's question is answered entirely in that box, there's no need for anyone to click through to your website – they're already found out everything they needed to know.
Another reason Featured Snippets are really important right now is because of voice search. The number of in-home smart speakers is on the rise and more people are using the voice search function on their phones, so voice search is really increasing in popularity. If you ask Google something from your phone or your Google Home, guess where it pulls the answer from that it reads to you? Yep, Featured Snippets.
Twitter Cards
Google sometimes pulls tweets into their SERPs. Searching for a trending topic, a hashtag, or a famous person might bring up some tweets.
For instance, searching for "Ellen DeGeneres" brings up her own profile with her most recent tweets:

When searching "#quoteoftheday", we instead get three recent tweets using that hashtag:
Twitter Cards are just another way Google is trying to make its SERPs as close to real-time as possible. In our hashtag search, see how the most recent tweet pulled in was from 41 seconds ago? Imagine if you were searching about breaking news. You'd see results from news outlets about what's going on, but then you'd also see up-to-the-minute tweets right there in the search results.
Top Stories
Specific websites are categorized as News in Google search. If there are news results found that pertain to your query, Google will grab those stories and put them into your search results. To access all of the News stories then, you can click the "More" button underneath or head to Google's News tab.
For example, here are some stories about black holes: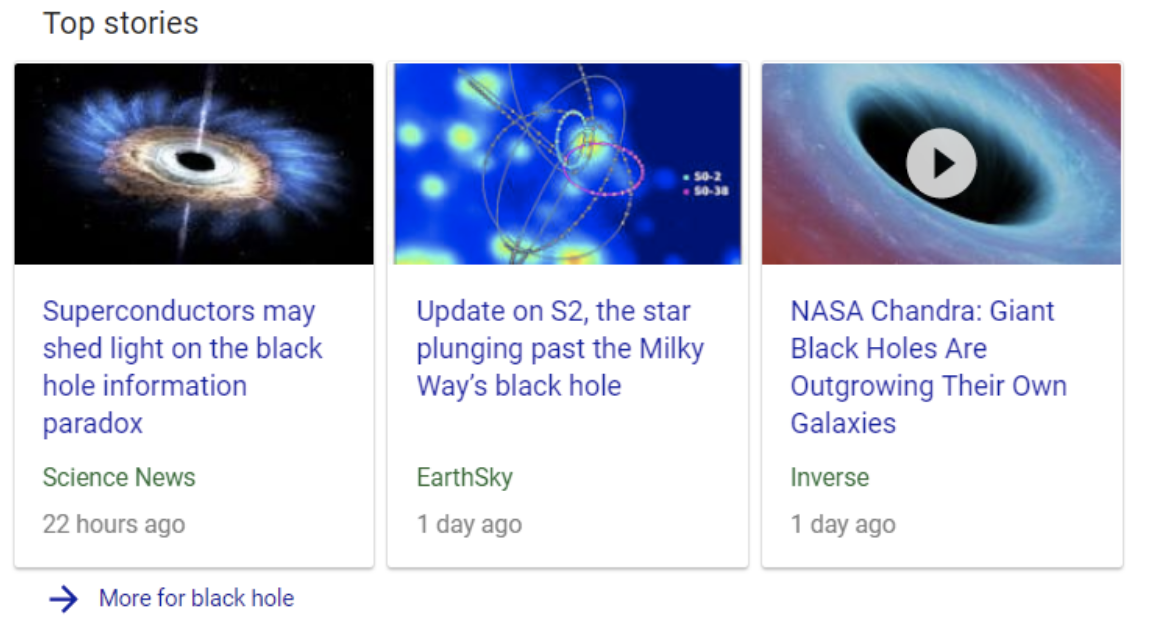 Although these tend to be recent, they aren't as up-to-the-minute as the Twitter Cards are. Still, they add extra information to the SERPs that you might be interested in.
People Also Ask
To keep you searching, Google added a "People Also Ask" box to their SERPs. These are queries that are similar to yours that you might be interested in. They're always closely related to what you've typed in, but broaden your question a little.
For example, here's the box that Google presents you with if you search "spring solstice":

The Full Picture
Oftentimes, searches will bring up multiple of the aforementioned components. Google doesn't just want to find your answer for you – they want to give you as much information as possible, and then some. Depending on your search, you'll be served a combination of all the different components of Google search. Every search will contain the regular organic links, but the rest is up to Google.
Let's take a look at the SERP for "lemur facts":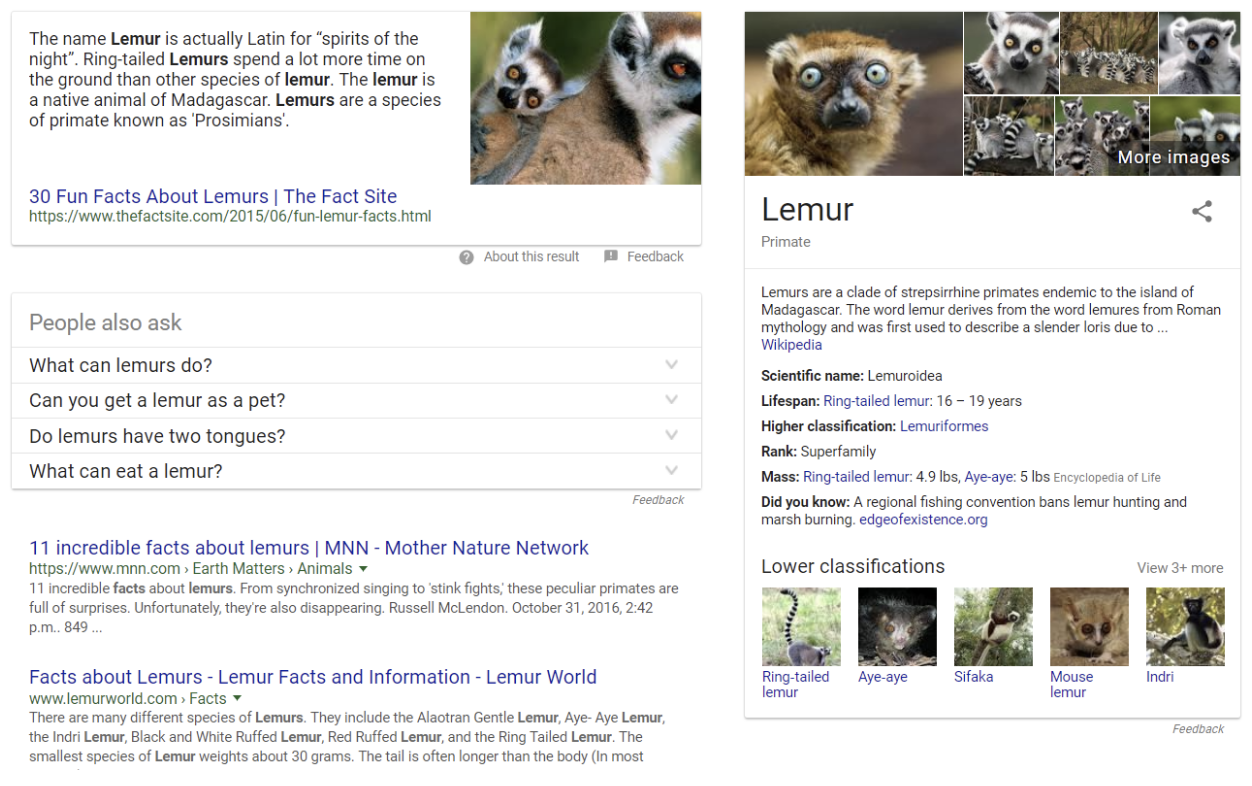 Here we have a Featured Snippet from The Fact site about lemurs, a Knowledge Graph card on the right with all the basic information about lemurs, and a People also ask box with questions related to lemurs that are often searched. Google doesn't just want to give you the answer to your question – they want you to be immersed in the entire world of lemurs.
All these components come together to serve you the best answer to your query and keep you interested in the results, giving you the best search experience possible.
Will we have to click on any websites in the future, or will Google just serve us any and every answer we could imagine? I guess we'll have to wait and see.
https://isynergy.io/wp-content/uploads/Anatomy-of-a-Google-SERP.jpg
763
2029
Steve Cross
https://isynergy.io/wp-content/uploads/isynergy-infinity-logo-1.png
Steve Cross
2018-04-06 18:49:36
2018-08-01 12:16:14
Google SERP Elements in 2018